Battle for the Crown 2007
|
home


Mardi Gras Ball 2009

The Mystic Krewe of the Kingdom of Lamuria is proud to present ...
Mardi Gras Madness V
A fancy dress Masquerade Ball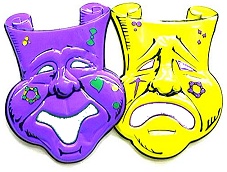 Coming in 2009
7pm-Midnight
A seated dinner will be served at 7pm with general dancing beginning at 8pm. Those who wish to partake of the dinner portion of the event must make their reservations no later then January 15th 2009. Those wishing to attend only the dance portion of the event should purchase their tickets no later then February 15th 2009. Seating is limited so please purchase your tickets as soon as possible. Dress code is Semi Dress, Cocktail Attire or Costume. Masks are requested for all attendees.
Proceeds from this event benefit the "MKKL Scholarship Fund".
DJ services provided by Jay Jensen
from "Bravo One"
Jay is our favorite DJ and can play most any type of dance
music you could ask for.
This event is open to all members, sponsors, patrons and guests who are at least 21 years of age and may include a reserved seating dinner, cash bar, live entertainment, general dancing, costume contest, Mardi Gras Parade & bead toss, a formal coronation ceremony and more.
Raffles & giveaways occur throughout the evening and a photo booth will be set up so that you may purchase a souvenir photo of the event. Costume prizes include Best Theme interpritation and Most Original/Authentic.
Reserved seating is available for the dinner portion of the event only. All other seating will be open.
To prebook or purchase tickets you may visit ...
Gaelic Dreams Floral & Imports Store
located at 2711 Ft Campbell Blvd in Hopkinsville,
or Call 270-886-0010
Ball/Dinner Tickets may also be purchased online here...
Dinner & Ball Ticket for one Adult $40.00
Includes two welcoming Cocktails and seated dinner plus ball attendance.
Dinner & Ball Ticket for per couple $75.00
Includes four welcoming Cocktails and seated dinner plus ball attendance.
Advance purchase Ball Ticket Only ( for One )
( No admittance until 8pm ) $15.00
( no dinner or cocktails provided )
Some tickets to the Ball portion of the event may be available at the door for a higher rate but this is no guarentee. Once the tickets are sold out no more tickets will be available.
We accept most major credit or debit cards. Those wishing to pay by check may do so upto the reserved ticket deadline. No checks will be accepted after this date.
To purchase multiple tickets simply adjust the quantity in the shopping cart page.
Due to limitation of the cart system sales tax and a delivery charge will be shown but will not be billed unless the tickets are mailed to you.
( Due to limitations of the shopping cart a shipping charge and sales tax will be shown but will not be billed unless the tickets are mailed to you priority mail. You may request that we hold the tickets at the door and we will send you a confirmation e-mail. To do so simply state the request on the shopping cart page. Tickets may also be purchased or picked up prior to the ball at Gaelic Dreams Floral & Imports, 2711 Ft Campbell Blvd, Hopkinsville, Kentucky 42240. )