Battle for the Crown 2007
|
home


Vendors Application

Retail Vendor, Arts & Crafts & Information Booths Fee Structure
Food Vendors

( no electricity available )

Booth Size 10'x20'

Booth Size 20'x20'

Fee $100.00

Fee $150.00

Retail Vendor

Booth Size 10'x10'

Fee $50.00

Arts & Crafts Booth

Booth Size 10'x10'

Fee $50.00

Information Booth

Booth Size 10'x10'

Fee $50.00

Please note: There will be no electricity available for vendor use however there are lights throughout
the park in case of it getting dark earlier then expected. The vendors area is scheduled to stay open from 10am to dusk therefore vendors should be set up and ready for business no later the 9:30am. There is no drive up access to the vendor area due to the fencing of the park . Loading and unloading will take place along S. Campbell St (See the
Fall Fun Fest Map
) the west of the park. It is advisable to bring a dolly or hand truck if you are bringing heavy items. Setup begins at 6am the day of the event and No vendor will be allowed to break down their displays prior to at least 5pm CST. The music stage will be going until at least 7pm and vendors are encoraged to stay until then.
All tables should be clothed and an award will be given for the best display. Each vendor is requested to donate an item to be raffled off during the festival to help raise funds for the charity. Trash disposal is the responsibility of each vendor and adequte recpticles will be provided. Each vendor is required to leave their assigned area in a similar condition as to when they arrived.
Vendors who make a donation to the raffle and who would like additional promotion during the event are asked to provide a short commercial in writing prior to the festival beginning which will be announced by the DJ during the day.
Food vendors are required to meet the minimum standards set forth by the local health department. These requirements include but are not limited to, wipeable surfaces, access to fresh water ( bring a large jug of water as water will be in short supply ), food being stored, cooked or kept at the proper tempeture.

Use your mouse's right click function to save the image below to your computer. You can then use any print program to print it out. It is sized to fit a standard 8.5"x11" sheet of plain paper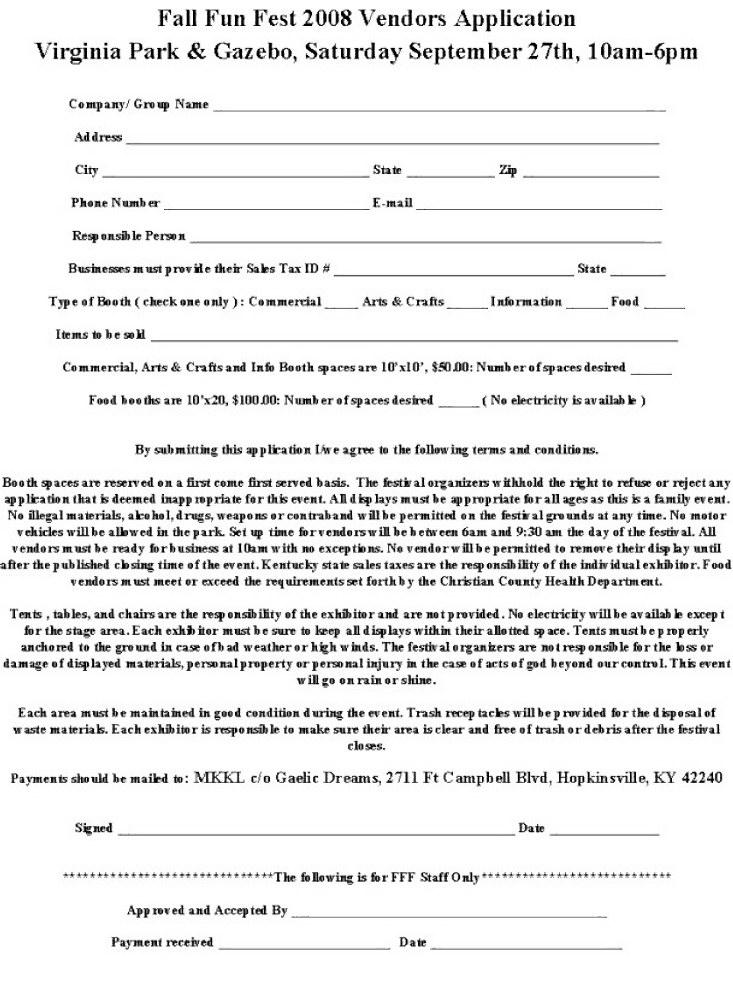 Completed applications & payments should be mailed to:
MKKL c/o Gaelic Dreams
2711 FT Campbell Blvd
Hopkinsville, KY 42240
Please make checks payable to : MKKL
Most major credit cards are also accepted including Visa, Mastercard, American Express and Discover. If paying by credit card please provide us with the name of the card holder, billing address for the card, expiration date and the V# located on the back of the cards signature line.
You may also pay by phone by calling Andy @ 270-886-0010