Battle for the Crown 2007
|
home


Fall Fun Fest Map

Below is a stylized map of Virginia Park & Gazebo
( S. Campbell Street Loading & Unloading area )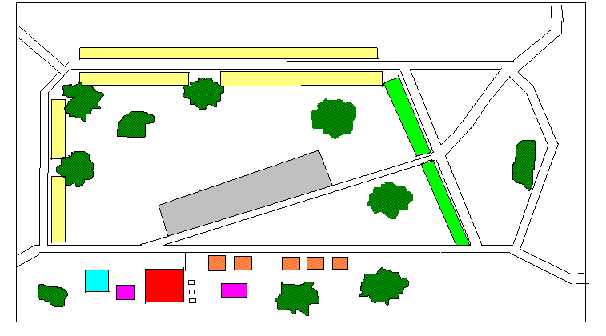 Yellow : Vendor & Arts & Crafts Booths
Green: Carnival Games & other attractions
Grey: Jousting Area & Relay Races
Orange: Food Vendors
Pink: Dressing area and First Aid
Turquoise: Castle Bounce
Red: Gazebo & Talent Stage area
Restroom facilities are located next to the gazebo
This map is just a representation of the set up, it is not drawn to scale nor is every booth space shown. The left border is on 9th Street ( aka US 68/80 ) and the top border is S. Campbell Street. Parking is available on both sides of the park across the street.
Virginia Park and Gazebo is centrally located in the heart of Old Hopkinsville just a short walk from the citys Arts Council office, situated in an old Victorian train depot, and the Pennyroyal Area Museum. The gazebo was built in the late 1800's and is a Victorian landmark. The park has several shade trees and a few picnic tables. The paths are paved and easily accessable from three sides of the park.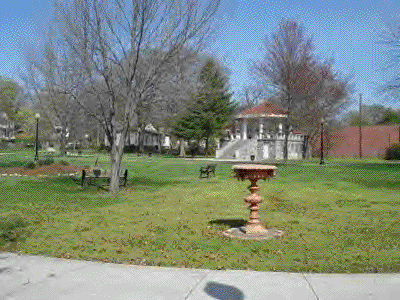 To get to the park from Pennyrile Parkway, take exit 9 ( US 68/80) and go west toward downtown Hopkinsville . At 9th street take a right and go past the St Peter's and Paul Catholic church until you see the Family Dollar store. The park is situated at the corner next to the store. Parking is available on 9th street and on S. Campbell Street.
Please do not park in the Family Dollar parking lot as your vehicle
may be towed at your expense.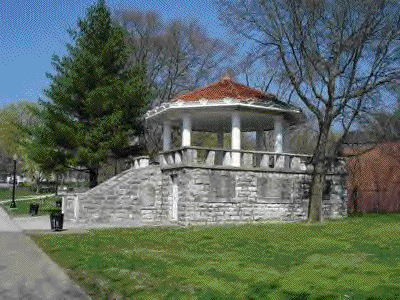 If driving South on US 41 from Madisonville/Crofton, stay on US41 aka N. Main Street until you come to 9th street. Take a left on 9th and continue past the old train depot to S. Campbell Street. The park will be to your left at the corner.
If driving North from Ft Campbell or Oak Grove KY and Clarksville TN, take US 41A North aka FT Campbell Blvd North, to the Y at the Mill, Stay to your right. Cross over the railroad tracks. You are now on Walnut Street. Continue on Walnut street until it dead ends at 9th street. Take a left on 9th and the park will be at the corner to your right at the light.
Please note there is no direct vehicle access to the festival area. Vendor parking and unloading will need to take place on the S. Campbell Street side of the park. The park is handicap accessable as all paths are paved. The organizers of the Fall Fun Fest 2008 are not responsible for the loss of property or damage caused to vehicles in any parking area so please be sure to lock your vehicle.